4th East Asian Pacific Student Workshop on Nano-Biomedical Engineering
This workshop has been successfully finished.


Photos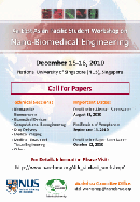 Date:

December 15-16, 2010


Place:

LT6, Block E4, Faculty of Engineering,
National University of Singapore (NUS), Singapore
Venue Map



Sponsored
by:
Technical Sessions:
Biomaterials, Biomechanics, Biomedical Devices, Computational Bioengineering, Drug Delivery, Medical Imaging, Medical Ultrasound, Tissue Engineering, Others.
Important Dates:
September 5, 2010: Deadline for abstract submission.
September 15, 2010: Notification of acceptance.
October 12, 2010: Deadline for paper submission.
What's New
December 3, 2010
Banquet Information was uploaded.
November 16, 2010
Final program was revised. Please check at Programme.
November 12, 2010
Final program is ready. Please check at Programme.
October 26, 2010
Presentation guideline was uploaded on Programme page.
October 26, 2010
Keynote speakers was updated.
September 24, 2010
Paper submission started.
September 6, 2010
Abstract submission closed.
August 31, 2010
Abstract submission deadline has been extended to September 5, 2010.
August 27, 2010
Committees is updated.
July 23, 2010
Abstract submission started.
July 23, 2010
The 1st announcement was added.